Pottstown's Manatawny Still Works has two bottle releases in time for your Thanksgiving feast. A year after releasing its first Bottled in Bond whiskey, the distillery is back with a second go-around, this one aged five years. Bottled in Bond is a kind of seal of quality and a technical term, meaning the whiskey has been distilled by one distiller, in one distilling season and aged for at least four years in a federally bonded warehouse and bottled at 100 proof.
This year's Bottled in Bond is Manatawny's oldest whiskey released to date and is described as having, "pleasing notes of sour cherries mix with oatmeal raisin on the nose, reminiscent of cherry cobbler. Bright flavors of apricots and dates fade to a deeper caramel and seasoned oak character with a mellow, dry finish."
Bottles of the 100 proof whiskey are $70 and can be pre-ordered for pickup or shipping across Pennsylvania.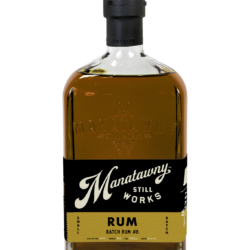 And as if that weren't enough, Manatawny will also be releasing an aged rum. This is batch #8 in their series and blends a six-year aged baker's grade molasses rum with a younger black-strap molasses rum.
The rum is described as having "vanilla and orange aromas on the nose," joined by "floral and funky notes with baking spices on the palate, with a pleasantly dry finish." Bottles of the limited edition rum are $40 and are also now available for ordering from Pottstown or the distillery's Philadelphia Tasting Room or for shipping.